Team News
Rickson Gracie Seminar
We are excited to have Professor Vaghi's instructor Rickson Gracie to St Louis for a seminar.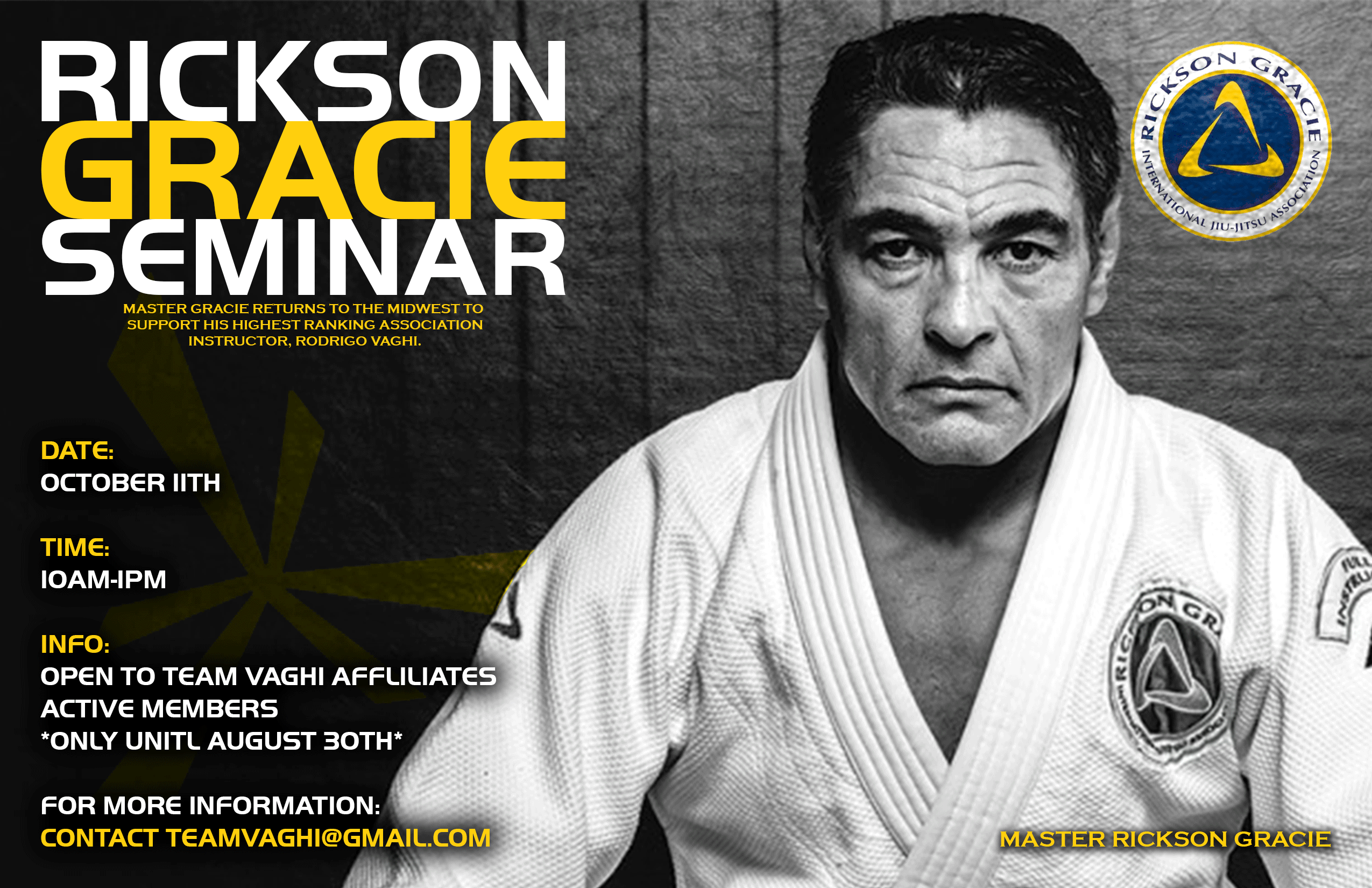 Team Vaghi Headquarters New Facility
TEAM VAGHI HAS BUILT A BRAND NEW TRAINING FACILITY LOCATED AT 15739 MANCHESTER RD, ELLISVILLE MO. COME BY AND TRY OUT A FREE CLASS. SUPER SALE SEPTEMBER DEALS STARTING SOON. IF YOUR LOOKING FOR SELF DEFENSE, COMPETITION OR JUST AN AMAZING WORK OUT, WE HAVE A PROGRAM FOR YOU.
BELT TESTING FOR ELITE KIDS
OVER THE NEXT WEEK ALL KIDS CLASSES BOTH ELITE AND REGULAR WILL BE TESTING FOR THIER STRIPES AND BELTS.  MAKE SURE TO CONGRATULATE ALL THE KIDS ON THIER NEW PROMOTIONS AS THEY HAVE ALL WORKED VERY HARD AND PUT A LOT ON THE MATS IN THE LAST SIX MONTHS.
Chicago IBJJF
Good luck to all affiliates and members  of the TEAM VAGHI Fenton  this weekend in Chicago.   They are competing in both GI and NO GI over the weekend.  There is a total of twenty registered.  Results will be up sometime sunday night on the message board and new page.
Team Vaghi Elite Kids
Congrats to all the Team Vaghi Elite kids for their new belt ranks and special congrats for the Newest Member of the Elite Team, Dalton Lay.  Today showed why Team Vaghi is the best school in the Midwest.  The Elite kids know you earn your belts you don't buy them like other schools.  Team Vaghi builds character and CHAMPIONS and these boys and girls know what it takes.
Team Vaghi news update on new location coming soon!!!!!
Team Vaghi Elite Kids
Some of the members of the Kids Team Vaghi Elite Team are off to Tennessee this weekend for the NewBreed Tourney.  Good luck to Bryce, Antonio, James, Auystin and Jacob this weekend.  Represent Team Vaghi and bring home many Medals and Belts.
New Team Vaghi Black Belt Bill Krieg
Congratulations to our longtime friend and Team Mate Bill Krieg on his promotion to Black Belt from professor Rodrigo Vaghi this past weekend.  Its been a long journey Bill and we our very proud to have you as part of Team Vaghi.  Loyalty, Honor, Respect,  Team Vaghi
Exciting news coming……Team Vaghi is expanding to new locations in Fenton, Ellisville/Chesterfield. Big news on seminars for this year. Formal announcements to follow soon. Come be a part of the biggest Family you will ever have. Led by Rodrigo Vaghi, 5th Degree Rickson Gracie black belt. Team Vaghi Jiujitsu
In-House Tourney for kids at SCMMA (Saint Charles MMA)
There will be a in-house tourney at SCMMA this Saturday Starting at 8am for KIDS. It will be a GI and NO GI with a  guaranteed 4 matches. Weight classses to be matched up the morning of. $10 for all Rodrigo Vaghi affiliates. $20 for all non affiliates. Everyone is welcome.
4029 S. CloverleafSaint Peters, Missouri 63301