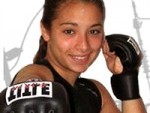 "Smashley" Cummins defeated Chelsea "The Italian Princess" Colarelli via rear naked choke in the 5th round.
In defeating Colarelli, Cummins earned the XFL title in the 115 pound weight class, and secured her spot as one of the top female fight prospects in the country.
With the close fight potentially up for grabs, Cummins landed a head kick and scored a takedown. After moving to the mount, Colarellis gave up her back and Cummins submitted her via rear naked choke to secure the victory.
Ashley is now 1-0 as a professional.