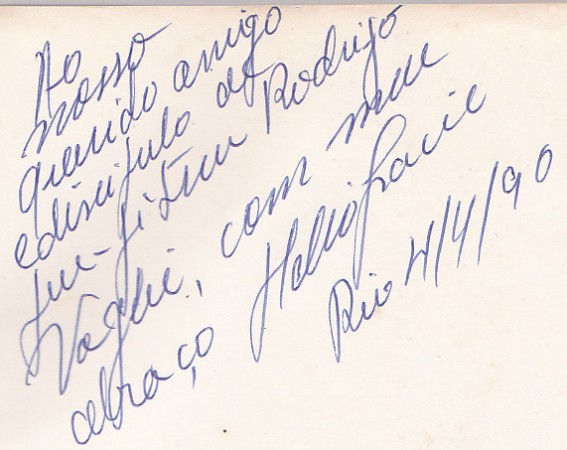 "To my dear friend and disciple of Jiu Jitsu Rodrigo Vaghi, with all my love Helio Gracie
–Helio Gracie: Rio 4/4/90
"Rodrigo Vaghi has distinguished himself among other Jiu-Jitsu stylists as a superior competitor. As an instructor and competitor in US and international competition I feel certain that he will be able to pass on the teaching he received with dedication, technical efficiency and invincible spirit that has always been synonymous of the Gracie Family name."
–Rickson Gracie
Thank you for taking the time to fly to Chicago to conduct a two day ground fighting seminar for the FBI Chicago SWAT Team. Your teaching style was second to none. Each FBI SWAT Operator advised the class was excellent. You started with basic ground fighting movements that were applicable to Law Enforcement Officials. After just two days, you ended with very advanced techniques that were easy to understand and practice. Your teaching style created an atmosphere of excitement that made each person want to push them self and get better at the various techniques. I would highly recommend you as a teacher of Jiu-Jitsu. You are an obvious expert in your field and a master instructor. We can't wait to have you come back and instruct the FBI again.
–Robert D. Melton: FBI Chicago Regional Training Facility
At age 37 I decided it was time to learn a martial art.  I chose Brazilian Jiu-Jitsu after much research.  I felt it important to learn BJJ from the person with the strongest, most direct link to the founding father, Helio Gracie – in Missouri, that person is unequivocally Rodrigo Vaghi.  I immediately fell in love with it.  I signed up my 11 year old son and he has now devoted all his time to learning the art of Jiu-Jitsu and competing on a regular basis.  It has made our relationship so much closer as we both are heavily involved in our new Family of Team Vaghi.  Our time training together is Priceless.
– Geoff Meyerkord: Blue belt and Attorney at law, Meyerkord &Meyerkord www.meyerkordlaw.com